Get a head start with a broad range of
pre-designed controls and UI templates.
Pixel Perfection
Meticulously crafted with clean pixel edges, precise alignment and subtle effects.
Fully Scalable
All controls and assets are vector based for any resolution output.
Easy Customization
Using Sketch Symbols, shared styles and a common color palette.
Interactive States
Controls include up to 5 states: Default, Hover, Active, Selected & Disabled.
Advanced Charts
Including Line, Curve, Bubble, Candlestick & Spider Charts. www.highcharts.com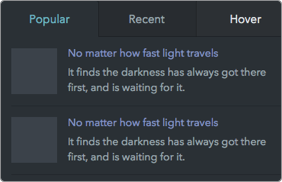 Panels & Widgets
Including tables, tabs, accordion, video player, login form, world clock, and more.
Built with Sketch
Matter utilizes all features that Sketch offers. For more features, add Sketch plugins.
Free Updates
More elements to come including Mobile and Page Layouts.
Take a closer look at some samples
Image with Overlay (2x Styles)
Image with Description
Chart Summary
Image with Stats & Info
Subscription Form
Login Form
Alert Messages
Video Player
World Clock
Tabbed Content
Accordion
Table Zebra
Table Standard
Table Color
Button
Button Small
Dropdown Menu
Toggle Switch
Date Picker
Checkbox
Radio Button
Input
Input Search
Input Dropdown
Textfield
Grouped Icon Buttons
Tabbed Buttons
Pagination
Progress Bars
Basic Sliders
Range Sliders
Star Rating
Analog Clock
Positive Sentiment
Negative Sentiment
Spider Chart
Donut Chart
Bar Chart
Line Chart with Volume
Curve Chart with Volume
Curve Chart Small
Line Chart Small
Candlestick Chart
Bubble Chart
Typography
Outline Icon Font
...
...and there's more coming.
More Controls
More Charts
More Panels & Widgets
Light Version in v2
Mobile Screen Examples
...
Now includes Light Matter
Download
50% launch discount! Full price at $38.
All future updates are free.
I want this!